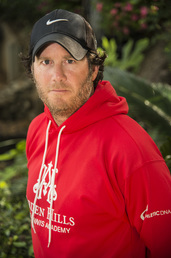 Joseph Gilbert
Owner/Director JMG Academy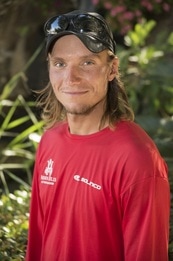 Anton Stryhas
JMG Head Coach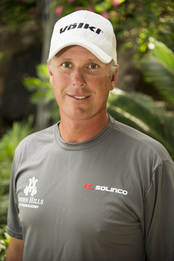 Joseph Gilbert
Owner/Director JMG Academy

2013 – USOC NATIONAL DEVELOPMENTAL COACH OF THE YEAR
2018 – USOC NATIONAL DEVELOPMENT COACH NOMINATION
In February 2013, the prestigious JMG Tennis Academy moved locations and is now officially based at Arden Hills with Joseph Gilbert as the Academy Director. The Academy has developed and attracted some of the top junior tennis players in the nation.
Gilbert was born in Louisiana, but grew up playing tennis in Southern California. He finished his junior career as one of the top sectional and nationally ranked players, both in singles and doubles. After his junior career, he accepted a full athletic scholarship to Boise State University and played on a team that ranked #2 in the NCAA.
Gilbert started coaching in 2001 and since then has coached a variety of players ranging from top local and nationally ranked juniors, Division 1 college players, WTA Tour and ATP Tour players.
Player's advancement and accomplishments under Coach Gilbert's guidance include:
Collin Altamirano First unseeded player to earn wild card to Men's US Open and 2013 USTA National Champion. Started with coach Gilbert at the age of 12 and now is one of the top recruited junior players in the nation and has started to play ATP Tour events.
Kevin Kim Improved his Top 200 world ranking to #64 on the ATP Tour.
Margarita Karnaukhova Started ranked #70 in Division 1 women's college tennis and finished her NCAA career with a ranking of #14 and became an All-American.
Coached top sectional and national players in all age divisions both in girls and boys.
Additional players have earned scholarships to Division 1 schools such as Stanford University, Santa Barbra University, California University, Arizona, State, Bryant University, UC Davis, St. Mary's, University of Pacific, Sacramento State.
By 2018:
Coached players winning 11 National Championship Gold Balls
Coached 7 National Championship Finalists – Silver Balls
Had 2 country top college recruits
Coached 3 players in the main draw of US Open
Anton Stryhas
​Academy Head Coach
Anton started playing tennis at age 7 in Minsk, Belarus. Played his first tournament at age of 10. National Champion in doubles under 14, 16, and 18 age categories. Semifinalist and finalist of Belarus National Championships in singles under 14 and 16 age categories respectively. Member of Belarus national junior teams under 14, 16, and 18 age categories.
In 2000, as a member of 14s national junior team, 4th place in European team championship and 5th place in World team championship. In 2004, acquired Belarus Master of Sports certificate after winning Belarus National Championship in doubles among adults. Member of Belarus Davis Cup team on several occasions. Trained with such world-known tennis players as Max Mirnyi, Viktoria Azarenka, Vladimir Voltchkov, Olga Govortsova, and others. As a college tennis player, competed for Sacramento State Hornets for 4 years on full scholarship while playing positions 1 and 2 in both singles and doubles.
Helped the team to win 3 Big Sky Conference titles and led it to 3 NCAA appearances. Was appointed the team's captain his sophomore year and held the position for 3 years. In singles, held 23-1 record his sophomore year, which earned him Big Sky Conference MVP, and was nationally ranked among top 100 players in NCAA. In doubles, was ranked as high as #16 nationwide in NCAA and recorded upsets of 3 top-10 national doubles teams including #2 Louisiana State, #7 Oklahoma State, and #8 Wisconsin. In 2009, was awarded with Sacramento State's Senior Student-Athlete of the Year.
As a coach, held assistant coach position at Sac State men's tennis team in 2010-2011. Has been with JMG Tennis Academy since 2013
Martin Kosan
​Academy Coach
Coach Martin Kosan was born in Slovakia and started playing tennis when he was seven years old. To stay in shape he spent a lot of time skiing on a race team and playing table tennis. Tennis and table tennis became Martin's favorite sports throughout high school and college, where he got introduced to a career in coaching.
He graduated as a physical education teacher with a Masters Degree from the Comenius University in Bratislava, Slovakia. During his years in college he had an opportunity to work with internationally recognized specialists in all fields of coaching. After graduating in 1996, he coached in Spain and was hired by the Slovak National Table Tennis Association to coach their National junior teams. His young players won one gold and four bronze medals from three European championships. During this time he continued as a part-time tennis coach.
In 2000, Martin was invited to come to California to become a part of Northstar at Tahoe's skiing and tennis teams. After spending two years in the Sierra's he moved his family to Sacramento and helped the Rio Americano High School boys' tennis team as an Assistant Coach, winning three sectional titles.
Since April 2005 Martin has been coaching Arden Hills' members in the capacity of Tennis Coach and Tennis Manager. In 2012 he joined the JMG Tennis staff. As a part of the NorCal Coaches Commission he coached at Regional and USA Team Sectional Training Center Camps helping young talented players to achieve their goals.
His passion for coaching tennis and developing players grows stronger every day.
James Roberts
​Academy Coach
A South Lake Tahoe native, Jimmy Roberts has been a a professional in multiple sports. Skiing and tennis were the main focuses of Roberts' during his childhood. Competitive skiing during the winter and tennis tournaments during the summer was how he spent his years growing up in Tahoe. After reaching as high as #8 in the Nation in 2006 when he was 16 competing in Freestyle skiing a knee injury forced Roberts to look to tennis as an alternative profession.
College was where he began his first year round playing time on the court in his career. As a walk on for the Sacramento State Hornets in 2008 he earned a partial scholarship by his sophomore year in 2009. A wrist injury kept him out of collegiate tennis in 2010 and subsequently he transferred to the University of California at Riverside in 2011 in hopes of receiving more playing time. Playing at #2 singles his junior year and #1 singles in his senior year for the Highlanders, Roberts has had experience against high-level Division 1 players. In 2013, he accomplished a lifelong goal to become a professional tennis player when he traveled to Greece and won his first ATP point.
Graduating with a bachelor's degree in Psychology, he believes in the mental aspect of the sport is just as important as the physical. He looks forward to working with the dedicated and hard-working individuals at JMG Tennis.